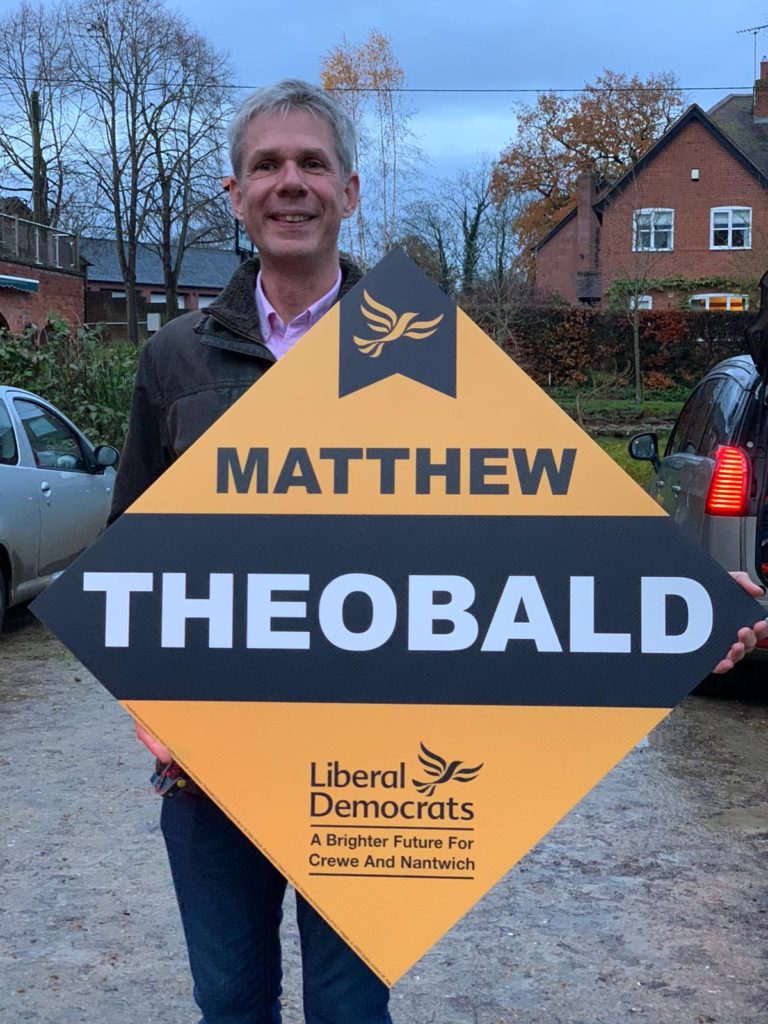 Your local Liberal Democrats are back and we are working for you! A hardworking team of local volunteers and donors have rebuilt the party after a quieter spell during 2016 and 2017. Now, we are campaigning to win Crewe and Nantwich so this constituency can have a Brighter Future!
Matthew Theobald has spent the last 22 years living and working in our constituency. He will vote in our best interests and would be very proud to represent you in Parliament.
Matthew is a local high school governor who is passionate about education. With responsibility for resources, he is painfully aware of the importance of school funding; Matthew knows more is needed and how this can be spent wisely. Working closely with the teams for children with Special Educational Needs and Disabilities, he understands how a universal education system must give every child the best start in life.
Matthew runs a local healthcare business; he knows the challenges of starting and running a business. Right now, our country is not small business friendly. Matthew understands this and will campaign for a balanced economy – one that protects employment rights and encourages entrepreneurship and innovation.
Matthew has a strong track record of campaigning against aggressive housing development that blights the local area. He will use that experience to campaign for more suitable, affordable and social housing; to help our young people set up their homes locally, families stay in the area, older people live independently for longer.
As a Green Liberal Democrat, he will continue to protect our local environment from further damage. Matthew is proud to be a signatory of Frack Free United's pledge and will oppose fracking in this constituency. He is also a keen supporter of the Plastic Free Nantwich initiative.
Matthew is also a supporter of Proportional Representation and has signed the pledge from Make Votes Matter. It is long overdue that we have a system where everyone's voice is heard, rather than the debate being a political football between the Conservatives and Labour.
Although a parish councillor, Matthew is not a career politician and has chosen to get involved because of the appalling state of our country. He thinks that you, and our constituency as a whole, deserve better. He wants you to join him in demanding better on the key areas that affect us all. He will champion our education system, protect our NHS, defend our local environment and fight to Remain in a reformed EU.
None of this will happen unless Brexit is stopped.
In 2016, whether you voted Leave or Remain, you voted for a better Britain. Three years on, it is clear that Brexit would not benefit our community. Brexit would harm our local businesses, including Bentley, which relies on frictionless supply chains. Our public services need workers from the UK and 27 other EU countries. Crewe and Nantwich benefit greatly from our membership of the EU, in education, employment, healthcare and support for regeneration. Above all, we are part of a European peace project which honours the sacrifices made to protect that peace.
A brighter future needs a positive, progressive plan for Crewe and Nantwich. The Liberal Democrat plans promise a fairer economy that will deliver extra investment in education – giving every child the best start in life, extra funding for the NHS and to transform our mental health services, an ambitious commitment to tackling the climate emergency, and much, much more.
For a brighter future for Crewe and Nantwich Vote for Matthew Theobald, Liberal Democrats.